New Toronto and Mimico March 2023 Update
Welcome to your New Toronto and Mimico March 2023 Update
It is spring! I am so happy as spring brings a time of renewal and new beginnings. Many people get their homes ready for sale and make plans for a change in where they live. The spring real estate market is normally very busy for buyers and sellers alike. Is a change in where you live on the horizon for you this spring?
As a lot of people are getting their homes ready for the spring market, let's take a look at how the real estate market did in the last 6 months in this month's edition of the New Toronto and Mimico March 2023 Update.
Here is the sold data for freehold home types from September 1st, 2022 to February 28th, 2023.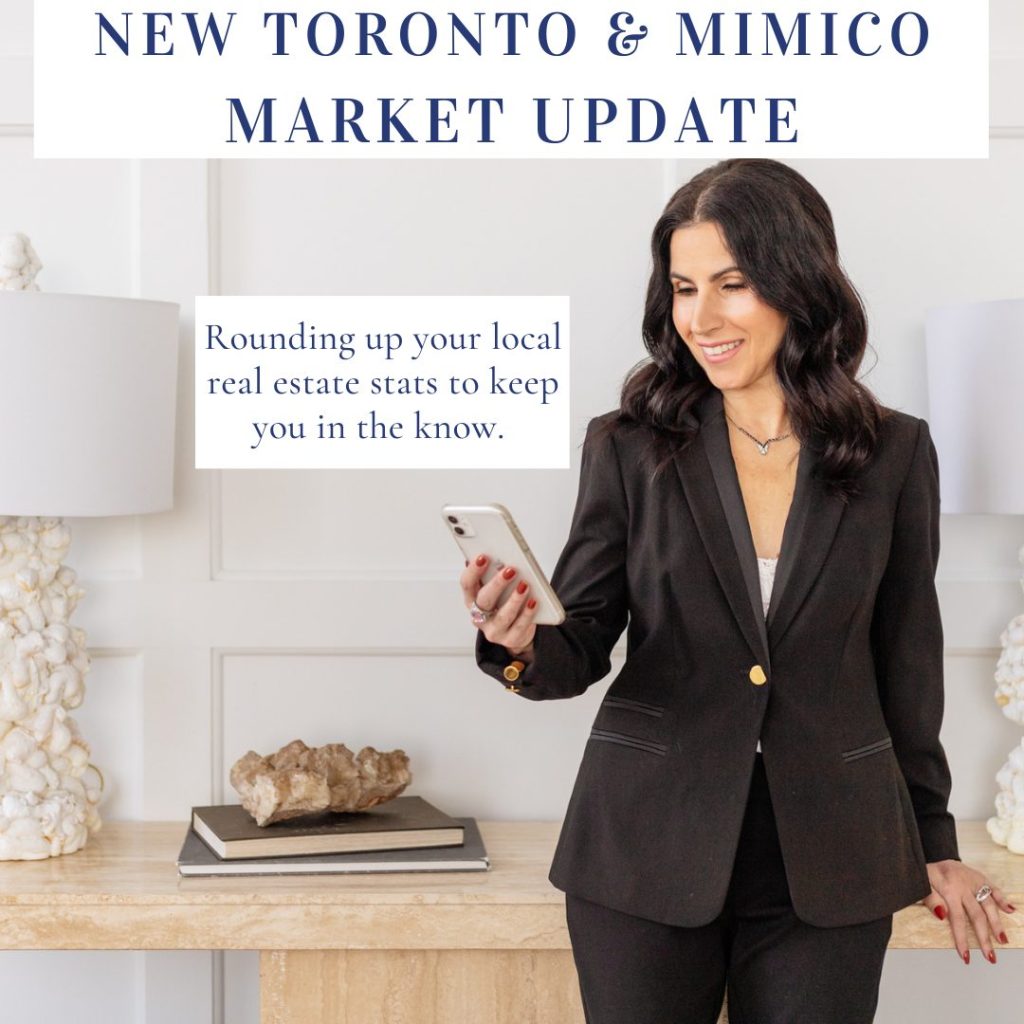 New Toronto
There were 31 freehold homes sold in New Toronto in the last 6 months which is really not a lot. There are only 10 homes currently for sale. In the last 6 months on average it was taking a home approximately 32 days to sell in New Toronto.
The average selling price was $1,330,370 which is slowly increasing and is 95.74% of the list to sales price ratio which also increased. Basically this means houses are selling close to the seller's asking price.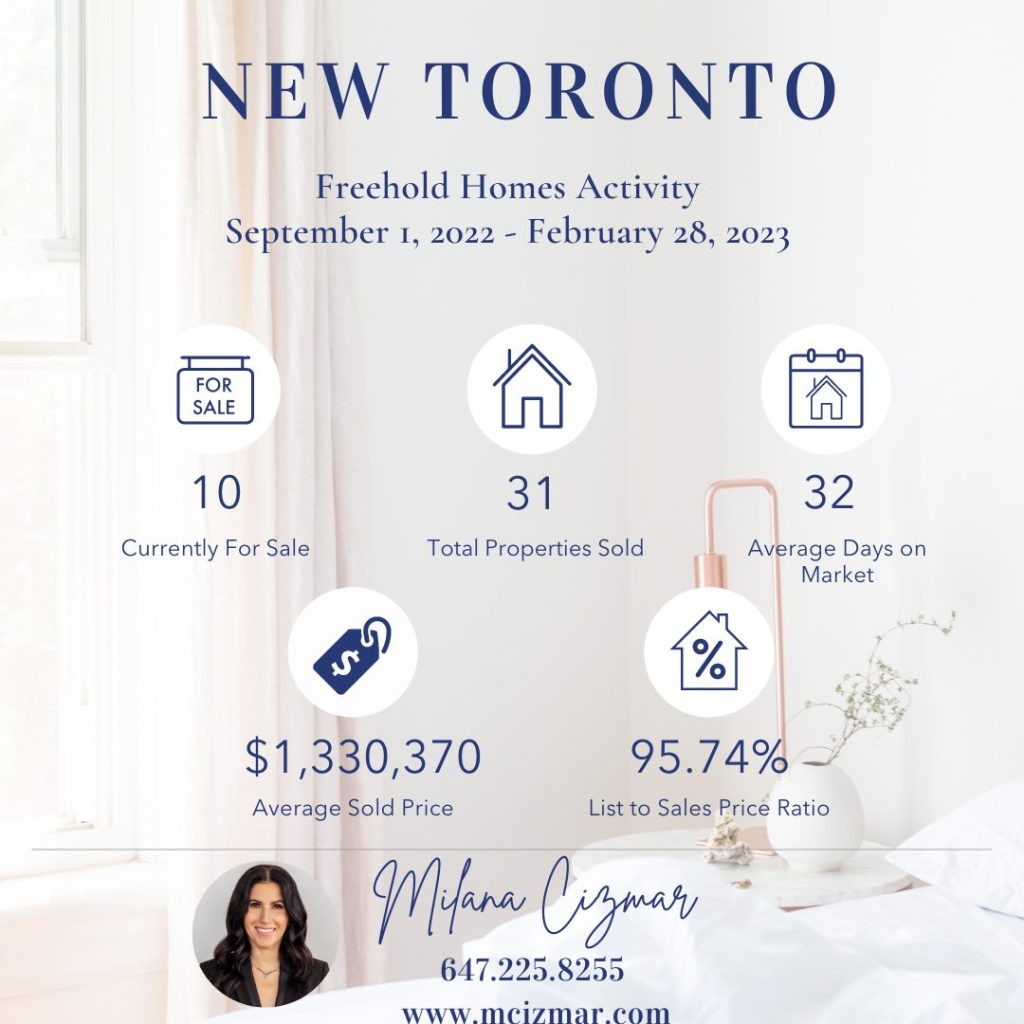 Mimico
There were 42 freehold homes sold in Mimico in the last 6 months.
There are 19 homes currently for sale in Mimico which is a slight decrease of 2 homes less than the previous 6 months and adding to the low inventory in the area. It is taking approximately 23 days for a home to sell, which is 2 days longer than the previous 6 months.
The average selling price was $1,207,560 which is lower than in New Toronto and slightly less than the previous 6 months in Mimico.
The list to sales price ratio is also slightly lower at 95.52% but overall homes are still selling pretty close to their asking price in Mimico.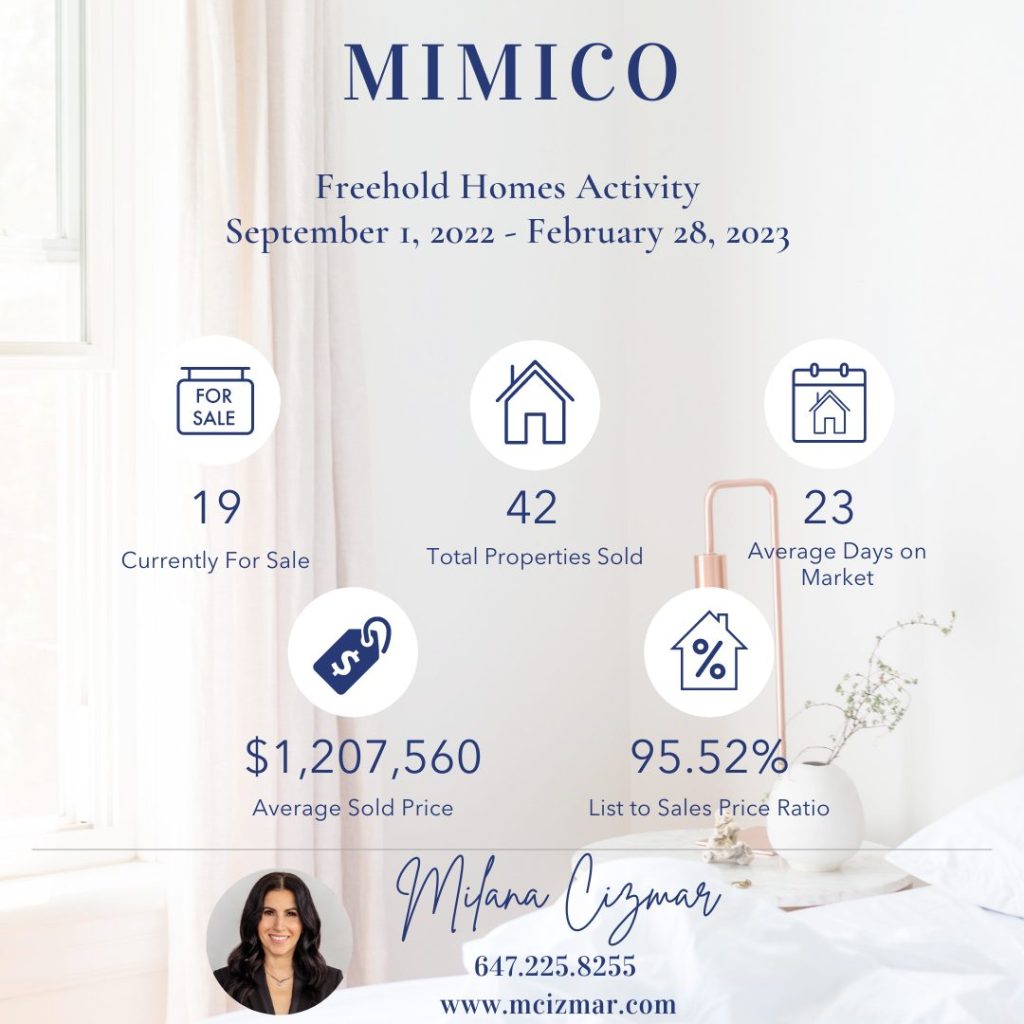 Thinking of Buying in New Toronto or Mimico?
What does this mean for you if you are looking to buy a home in New Toronto or Mimico?
Currently there is 2.5 Months of Inventory in New Toronto which tells us we are in a Seller's market there with the low amount of inventory.
In Mimico there is 2.7 Months of Inventory which is slightly more than New Toronto but still is a Seller's market in the area.
There are only 10 freehold homes for sale in New Toronto and 19 in Mimico. Homes in New Toronto are taking about 32 days to sell and 23 days in Mimico. This is just a 6 month average though.
Looking to buy?
If you are a buyer and looking for a home in either of these neighbourhoods with the low amount of inventory you may have to move quickly on a home. Offer dates and bidding wars are starting to make their way back into the market. Most houses are selling for close to their list prices and or list price. A few are going over the list price if they have attracted more than one buyer, offer great value and possibly were under priced to begin with. With low inventory competition may start to pick up between buyers so don't take too much time when you see a house you like.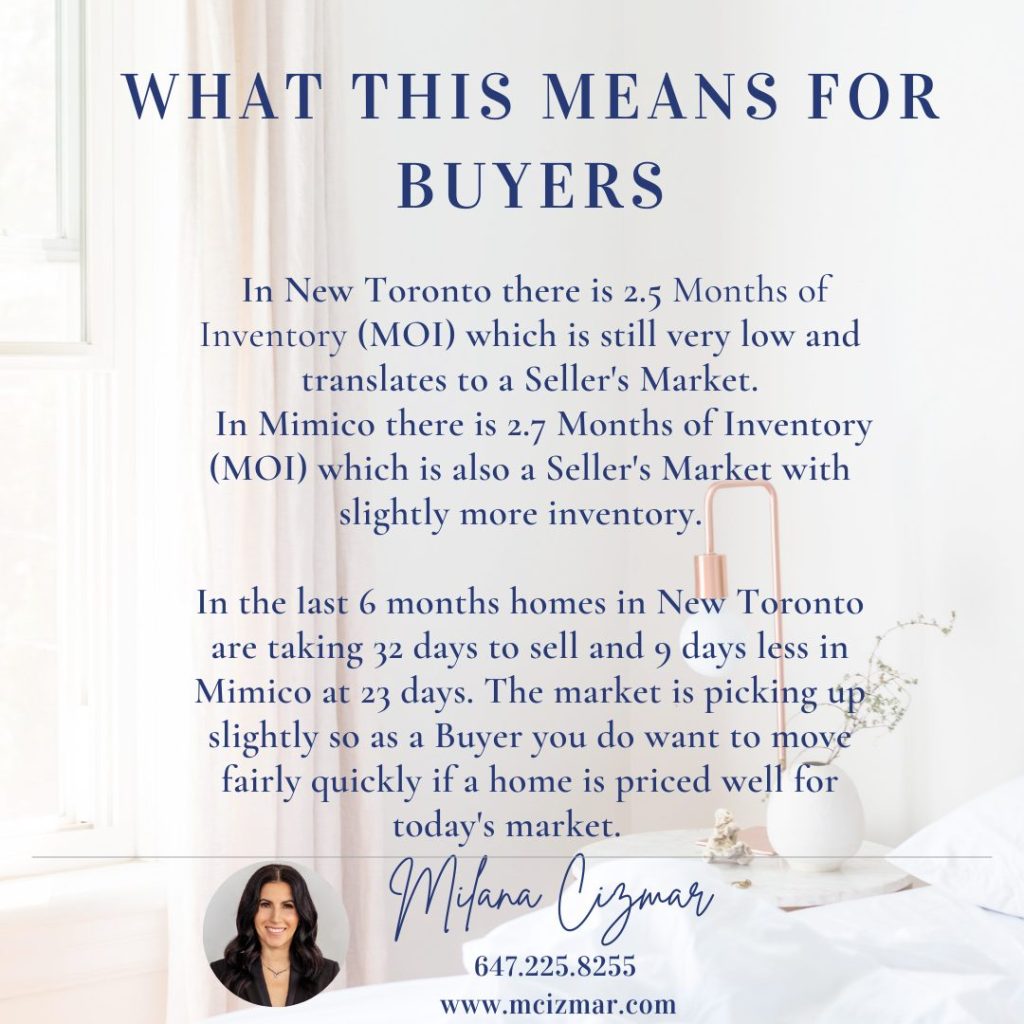 Good time for Sellers again
What does this mean for you if you are looking to sell your home in New Toronto or Mimico? You don't have much competition in terms of other houses on the market for sale. Homes are still selling close to their list prices and there are a few more buyers out there looking to buy a home. Your pricing strategy is the key to getting your home sold quicker and for the most amount of money. Also, stay on top of the current real estate market in your neighbourhood. The market hasn't been too predictable the last little while and changes are continually happening from month to month, week to week and day by day.
When you are getting your home ready for sale you need to prepare it to show at it's best. Highlight the key features that attracted you to your home and take care of repairs and updates before you list your home for sale.
With my signature selling system, I can help you focus on the right updates and show you where to best spend your time and energy. If that is not something you would like to do, I have the people who will help take care of everything!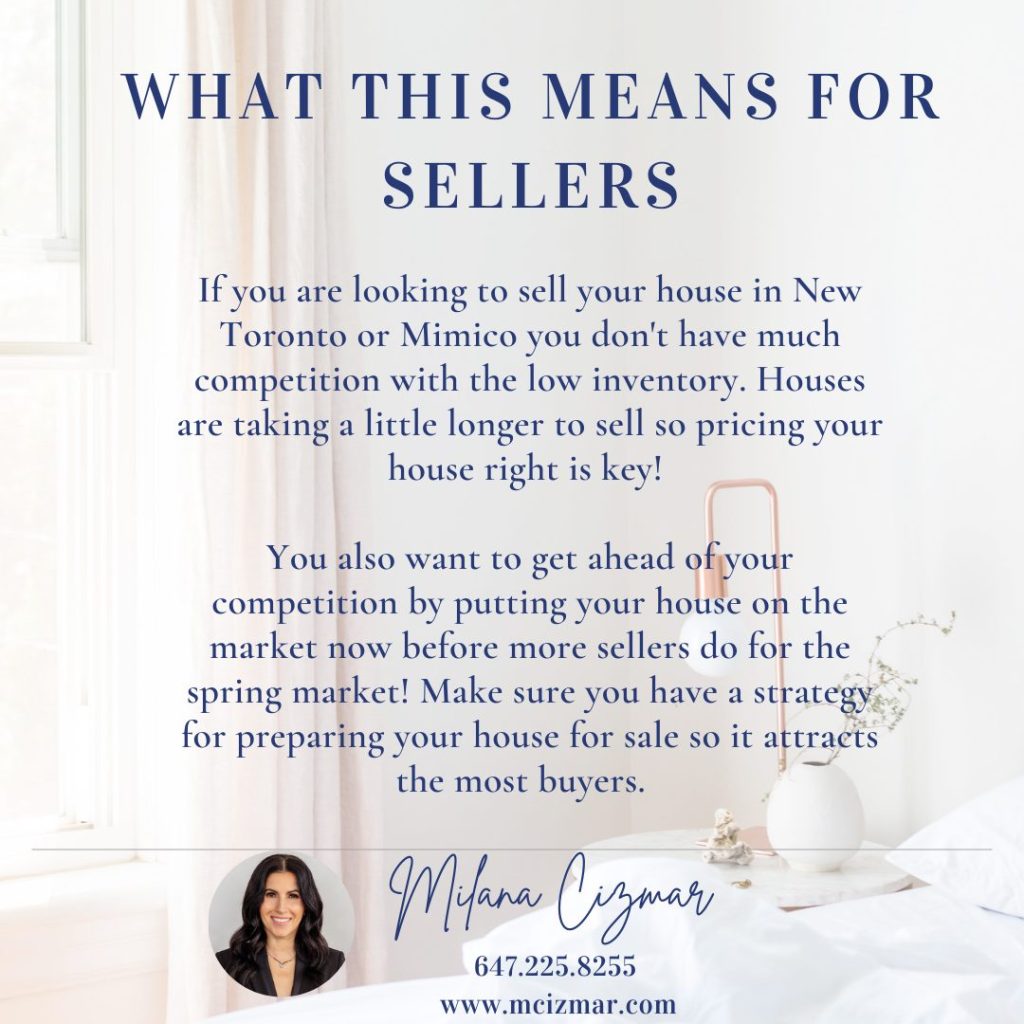 As always if you have any questions about New Toronto, Mimico or any other Etobicoke neighbourhood please let me know.
Want to get updates delivered straight to your inbox? Sign up here to be notified once a month of the latest Toronto and Etobicoke Real Estate Market Updates as well as insider Buyer and Seller tips you won't find anywhere else!