Bored with your Headboard? Awaken Your Imagination
The bed is the centerpiece of almost every bedroom. It takes up the most room, it's where your eye is naturally drawn to, and it's the place where you spend a third of your day. Yet despite all the attention on beds, headboards are often humdrum, predictable pieces of furniture. So why not add some style and personality to your headboard? All you need is a little imagination. Here are a few ideas to get you thinking: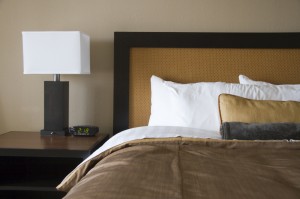 Fabulous Fabric
Fabric is a great way to add intrigue to the focal point of your bedroom. Instead of a standard headboard, consider hanging a family quilt on a curtain rod for a quaint, farmhouse effect. Even a striking curtain can extend the eye upwards and bring your bedroom style to new heights. Or add some panache with a few decorative hooks.
Right Frame of Mind
A framed piece of appealing art can add vertical interest above any bed. Consider a series of framed photographs to help personalize your bedroom, and emphasize them with subtle wall lighting. Go for glamour with a framed antique mirror that can also help create the impression of extra space.
Shabby Chic
If you're going for a look that mixes urban trend with a traditional tone, think shabby chic. Old doors, window shutters, mantle pieces, and uneven planks of wood can all be repurposed into vintage-looking headboards. Either refinish wood with its natural colour or use light blues, browns, or whites to create a dreamy combination of rustic and elegance.
Artsy, Optical Illusion
Want to really think outside the box-spring? Why not create a new headboard right on the wall? Great for kids rooms, guest rooms, or just to save space, simply paint a faux headboard on the wall in a colour that stands out. Get even more creative with chalk paint and draw yourself a new headboard whenever you wish!
With the right mix of imaginative colour, design, and style, you'll have the bedroom of your dreams! Do you have any ideas to share? Let me know I'd love to hear how you got creative with your headboard!