Choosing the right furniture for your home.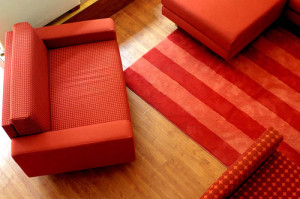 photo credit: eyewashdesign: A. Golden
Choosing the right furniture to suit your home and your lifestyle is important, a home's furniture reflects its character and yours. Here are a few tips to help ensure your furniture is functional, comfortable and makes a statement about your personal style.
Decide the overall look you're aiming for. If you like classic style and design with lots of wood, think traditional. If you're into a more streamlined look with geometric patterns, think contemporary. Keep trendy items limited to small pieces or accessories, as larger trendy furnishings date quickly.
Consider the function of your room and your family's needs. Is your dining room a formal place for entertaining or a room used for everyday meals with your family? Do you want your living room to be a casual and comfortable place to watch TV and read, or is it used to greet and entertain visitors?
Determine if your furniture is going to have a lot of use. If you have a large family, consider buying durable pieces that can stand up to small children and pets. If form is more important, you might want to choose more delicate furnishings that are sustained with less wear.
Pre-plan for stress-free furniture shopping. Start by measuring the size of the room, taking into account entry, window and wall dimensions. A drawing of your room to scale will help you choose furniture pieces that fit perfectly.
Mix and match. you don't have to limit yourself to one style of furniture – let your personality shine through by combining the pieces that appeal to you. Styles that are similar in scale, line and texture will go well together. Showcase a treasured family desk or table along with your newly bought furniture.
Size it up. Furniture for a small space warrants special consideration. Buy pieces that are multi functional: a padded ottoman can be a coffee table, extra seating or storage. A half console table can be a server or bar when entertaining. A small, upholstered chair can be used in the living room, dining room or bedroom.
Buy quality. It is a better investment to purchase just one well crafted piece of furniture a year, than a whole room of cheaply made furniture. Poor quality furniture will wear out prematurely. No matter what your style, quality is timeless.
Check the construction of any item you're thinking of purchasing. Are seams and joints finished properly? Will the finish resist spills? Sit on sofas and chairs – are they comfortable and durable? Understand what warranties will cover should a defect occur.
A well furnished room can make all the difference when selling your home. That's the secret to "staging". Choose the right furniture for your space and your stage will be set!
What's a story behind your favourite piece of furniture? Let me know in the comments section!
Content provided by Royal LePage. For more information and tips, feel free to sign up for my monthly newsletter below.