Etobicoke Women in Business Spotlight!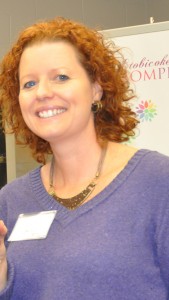 Mother of two amazing children and founder of Bubbles and Squeak Cleaning service and Toronto Condo Cleaning with partner Joseph Lyon. Servicing Etobicoke, GTA and parts of Mississauga.
Bubbles and Squeak Cleaning Service was founded ten years ago this year 2013! I began Bubbles and Squeak because I felt the need for personal, well thought out care and attention for ones own home. When my son was born, I was overwhelmed with keeping my house clean, completing daily chores, cooking and of course caring for a baby around the clock and having some sort of social life.
My degree in the service industry (Cruise ship and Retail) Bubbles and Squeak Cleaning service was launched and we haven't look back since, my husband Joe is now a full time Squeaker too! I strive daily to be the best in this industry. Attention to detail and training our hard working crew is key and of course listening to each client's preferred needs. When our daughter was born five years ago with severe disabilities Joe and I did not know what we would be doing today as a career outside our home office so we are so grateful to our staff and clientele for the success and support of our family business.
Bubbles and Squeak specializes in homes, condos, apartment and office cleaning on an ongoing basis to not only clean your home but better still maintain your home is clean all year round using your favorite supplies! Life is so busy with work, kids activities, dog walking and just getting through the week. Bubbles and Squeak understands so we help take the edge off, so enjoy your weekend and evenings knowing your home is tidy and clean of dust allergens, dirt, grime and pet dander. My goal is for you to take a breath and enjoy doing what you want with your time, go to a yoga class, enjoy your free time doing what you want to do!
I also work alongside home owners and real estate agents collecting information so a professionally clean property is truly worth showing off and increase the value. Our post renovation service is available as well. It's so nice to WOW our clients and of course we are Insured and bonded for peace of mind too
I understand the value of a dollar so clients may choose the frequency of a Bubbles and Squeak visit; weekly, bi monthly or monthly service is typical. I offer all parents on maternity leave a 5% percent discount on our regular reasonable rates as well as seniors and mompreneur members. We also have a surprise for all new clients upon arrival.
As we celebrate our tenth anniversary in business, I am still so happy to offer the best homecare service in our area!
I personally have had the pleasure of working with Suzanne's company for several years and they have turned out to be such a great resource for me. Bubbles and Squeak work so hard to make sure the customer is happy and they are always so accommodating, even on short notice which can happen in my business. I would not hesitate to recommend Bubbles and Squeak to anyone needing some assistance, they definitely have been a plus for my business.
To schedule your cleaning call Bubbles and Squeak at (416) 252-4100 or e-mail [email protected]