Have you been on the fence about whether to sell your home right now?
With interest rates at unprecedented all time lows I'm sure you have been hearing all the excitement and buzz about real estate right now. From bidding wars to bully offers and sellers getting way more than asking prices for their homes, you may be thinking this is the best time to get the highest return on your investment.
But, are you hearing the right information? How do you know where to turn and how to get the straight facts about what is REALLY happening? A lot of the information reported by the media is far from the truth!
As a real estate broker selling houses for the past 16 years, I have a wealth of knowledge and experience to help you navigate the truths! I can give you the insider knowledge you need to know about property value vs. market value, how to know which fix-ups and improvements to do on your home that will give you the biggest return on your investment and how to prepare your home for sale so you have buyers really excited about bringing you an offer!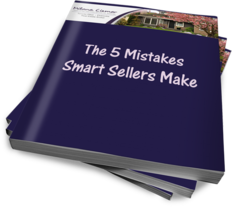 I have prepared a special report called "The 5 Mistakes Smart Sellers Make" that you can instantly download by clicking on the report image. In the report, I explain some of the misconceptions sellers make about selling their homes in a hot market. If you have been thinking about selling, this report can get you started in the right direction.

In the mean time, let me know if you have any questions about buying or selling a home. I'm here to help you in any way I can.