How to Choose a BBQ That's Right for You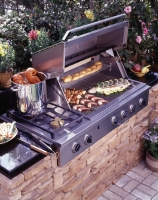 The BBQ is synonymous with summer. They've changed over the years, from small charcoal grills tucked off to one side of the garden, to sizable stainless steel structures taking centre stage on decks and patios.
Your choice of grill is all about lifestyle. So determine before you shop how often you will cook on it, for how many people, and what add-on features you want.
Here's some tips for choosing the right BBQ for you:
Charcoal Grills: Barbecue aficionados swear by charcoal grilling for a truly superior taste. They are simple and usually the least expensive of grills to buy, but do come with a messy clean-up. A charcoal grill will take longer to heat-up, but for you and your guests, good things come to those who wait.
Gas Grills: Using propane or natural gas, these are easy to clean, with no mess. They're quick to light up, and you have more control over the heat settings compared to charcoal grills. Gas grills usually come with multiple burners so you can cook a variety of foods at once. You can be a more attentive host, avoiding frequent runs to the inside cooker.
Charcoal Gas Grills: Charcoal grills with a small propane tank for lighting the coals, just like a gas grill, give you the best of both worlds. You get the high heat and smokiness of a charcoal BBQ with the no-mess convenience of a gas grill. Your guests will be impressed.
Electric Grill: Electric grills, although technically not barbecues, are ideal for condo owners who cannot use charcoal or gas. Modern models let you sear, cook and bake at very little cost.
Custom BBQ: The sky's the limit for designing your own BBQ. But whether you choose an outdoor kitchen, stone fireplace, or BBQ pit, build your BBQ in keeping with the design of your home. You want to make the transition from inside to outside as seamless as possible.
Once you have your chosen BBQ in place, consider the experience whether dining, entertaining or just plain relaxing. Plug in a small water feature, hang soothing wind chimes, or connect outdoor speakers to soak up the sounds. Please your eyes with vibrant flowers and lush plants, and choose dishes and napkins in festive colours. Install patio lights and place candles around your backyard to define your manicured space after dark. Inhale deeply as you grill up mouth-watering goodies and relish the scene you have set for al fresco dining at its summertime best.