Mantel Magic
How to Make Your Mantel Your Home's Centerpiece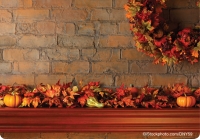 It's that wonderful, wistful time of year when tawny leaves, pumpkins, and log fires conjure up the essence of fall. Make your fireplace mantel a focus of all things this vibrant season has to offer with a few simple decorating ideas. If you don't have a mantel, the same suggestions can be applied to a buffet, bookcase top, or sofa table.
Gather the Ingredients and Get Started
Gather together a few clear glass vases or bowls, earth tone plaid ribbon and raffia. Take your cue from nature and pick some autumn leaves, branches and pinecones on your walks and shop for a selection of gourds from your local market. Beautiful amber glass pieces, which can be found in most department or thrift stores, create instant warmth and come to life at night with a tea light in the base. With these items in hand, you are ready to start decorating.
For an instant dash of fall, fill a squat glass bowl with the small gourds. For a long lasting inexpensive feature, spray paint the pinecones gold and display them in a hurricane glass. If you're looking for a more dramatic natural look, showcase long bare branches in a tall vase or try tying earth toned plaid table napkins with raffia and placing them in a long clear vase. Try different combinations of glass ware with the items you've collected to form an eye catching centre piece for your mantel.
Set the Mood
Candles create a calm and relaxing atmosphere and are a feature of most fireplace mantels or tables. Go for natural candles such as honey-toned beeswax. Although slightly more expensive than regular candles, they burn longer, don't emit noxious fumes, and are safer for those with allergies.
A brass candle snuffer on your mantel adds a touch of nostalgia and will come in handy, as beeswax candles should be snuffed out and never blown. If you don't plan on lighting the candles, decorate them with tied plaid ribbon or raffia for that festive look.
Bring Out the Wow
A rustic look atop your mantelpiece brings the beauty of the season indoors but don't forget what's around it. Paste spectacular red and amber leaves onto a small board and display in an old stand-up frame. Create vibrancy with a vintage wreath using florist's wire, coloured yarn, and faux foliage. If there's a mirror above your mantel, suspend your wreath over it with a plaid ribbon.
Add further interest by stacking together a few old books tied up with twine, fill wooden or glass bowls with nuts, and drape a string of tiny white LED lights over everything for extra sparkle at night.
A Canadian fall is a confectionery of colour. Let your mantel, buffet or table reflect this sensational season. It will uplift the spirits of family, friends, and all who you welcome into your home. Enjoy!
Article and Images from the Royal LePage Home Connexion Fall Newsletter