Meet Caroline Pigott of Flourish Marketing!
Caroline Pigott is a social media marketing consultant and founder of Flourish Marketing, a Toronto-based social media & online marketing business that connects women entrepreneurs with their target audience through online marketing consultation, social media management, blogging, content marketing, public relations and graphic design services.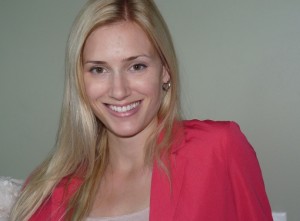 Caroline holds a BA in Social Development Studies from the University of Waterloo and received her corporate communications and public relations certification from Centennial College's Centre for Creative Communications in Toronto. Over the past 10 years she has worked in the finance, fashion and not-for-profit industries, and since 2008 has been successfully providing online marketing and social media services to a long list of clients across both Canada and the United States.
When Caroline's not increasing revenue and visibility for her clients online, she's chasing after her toddler, enjoying time with her husband, and networking on Facebook, LinkedIn and Twitter.
Visit www.youwillflourish.com to learn more or join Caroline in conversations on Twitter or Facebook you can also email Caroline at [email protected].