Searching for Homes Online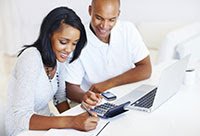 When buying a home, there was a time when we began with a drive around the neighbourhood with a real estate agent. Today, most home buyers begin their search online.
Technology has evolved over the last decade, home buyers are more knowledgeable about their needs, desires and what they can afford. I bet you are pretty savvy too! In my experience a more informed buyer has a better experience.
Here are some of the ways to put real estate at your fingertips through the online tools available:
Visit centris.ca or realtor.ca where photographs, descriptions, maps and 3D virtual tours can be found.
My website www.mcizmar has a wealth of information and is a great choice to search for current listings, learn about local neighbourhoods and buying and selling. There are even handy tools like a mortgage calculator and land transfer calculator so you can figure out ahead of time what some of the costs could be. For current listings there is even information on where the closet schools, amenities, parks are and walkability scores.
Mortgage rates are available through banking and lender sties. These sites often provide tips on organizing your finances, mortgage calculators and answers to your mortgage-related questions. Pre-approval applications for your mortgage are also available online to make things even easier for you.
Whether you are just in the gathering stage or already know what you are looking for there is a wealth of information to be found online. But, if you don't have the time to spend and just want a done for you solution I invite you to speak to an expert who can take the guesswork out of your house buying initiative. I can teach you EVERYTHING you NEED to know about buying the right house at the right price and getting a good investment that will appreciate for years to come!
If you have any questions about your home search or want to learn more about how I can help you buy the right house at the right price please take advantage of My Complimentary 30 Minute Wealth Building Strategy Session today.
I can help you get really clear on what this investment will do for you and how to Begin or Expand Your Real Estate Journey.
Here's to your True Wealth,