7 Ways to Save on Supplies for Your Home Renovation!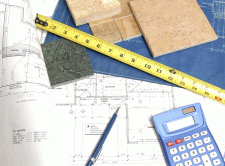 A Feng Shui bedroom, a retro bathroom, a cottage kitchen; there's so many creative ways to perk up the look of your home. But if the costs of your next home reno just aren't adding up for you, it's time to get equally creative with ways to save, and it starts with supplies. Here are seven tips to help you save on building supplies for your next big project:
1. Time it Right Upgrading your kitchen or bathroom? The new year is your best time to buy. Building a deck or a gazebo for your garden? Aim to buy in late summer or fall. Time your project after the season is over, because that's when stores discount their supplies to make room for the next season's materials.
2. Don't Underestimate Estimates Get at least three estimates for your project to ensure you're getting the best value. Ask each contractor to break their quote down between labour and materials. Make sure you're not charged for any materials that go unused or can be returned.
3. Think Outside of the Box-store When shopping for supplies, get creative. Think liquidation stores that often have low-prices on overstocked materials, classified ads where people may have leftover supplies, and second hand building supply stores.
4. Don't Pay for the Load Having a store transport your building supplies can be very expensive. If possible, transport the supplies yourself or rent a discount truck or trailer to save on costs.
5. Save on the Small Things If a contractor's quote exceeds your budget, negotiate a better price by offering to take care of some of the smaller tasks that you have the skill set to take on. Perhaps you can help with the clean up, the painting, the picking up of supplies, or even the light demolition duties if you're willing to get a little dirty.
6. Use the Internet for Hard-to-Find Fixtures Can't find the perfect pot lights, retro curtain rods, or the most fitting faucet? The Internet puts a huge selection of hard to find products at your fingertips. Look for specials with daily deal sites, seek out coupon and promotional codes that can give you deep discounts during checkout, and ensure you're comfortable with the company's return policy and shipping costs before you buy.
7. Ask and You May Receive! Never be afraid to ask for a discount, especially when making large or bulk purchases. If working with a contractor, ask for a better price if you offer to give them a testimonial, or write a blog for their website with before and after photos of your project.
Did you like this article? Sign up for more free advice here…did I mention it's FREE!