Bathroom Refresh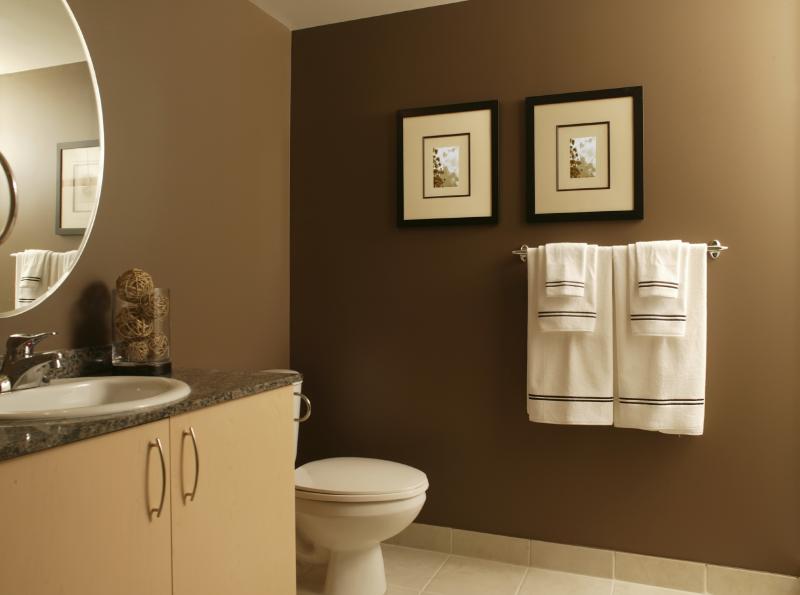 The bathroom may be one of the smallest rooms in our home, but we spend a lot of time there. It is essential to our daily routines and is often our retreat at the end of the day. In terms of resale value, it is also one of the most important rooms to pay attention to.
Here are some tips to give yours a lift.
Serenity now: Give your bathroom that soothing spa feel. Start with a palette of soft whites and layered neutrals; keep vanity surfaces clear and window coverings to a clean minimum. Heaps of big white towels are a must!
Fashion find: Steal your favorite colour from that fashion mag or the mall for a big hit of bathroom impact. The bathroom's smaller size makes it a perfect place for a shot of drama and colour in your home.
Get artsy: Swapping out a small, ho-hum wall art in favour of something big adds instant oomph to this room and can connect it to the rest of your surrounding decor.
Cheap tricks: If new cabinets are in order, they don't have to cost a lot. One decorator trick is to install inexpensive ready-made cabinets with high-end counter and faucet, taking the whole look upscale. If new cabinets are not in your budget, perhaps paint your existing cabinets, install fresh knobs and add a new, attractive tap.
Mirror mirror: Some of the fairest bathrooms envelop that swanky hotel feel by thinking big. A large mirror adds glamour and light to the room, making the room feel larger too.
Shimmer tips: Keep your metals consistent on knobs, accessories, and fixtures, for a cohesive feel. White metals, too, have a more current, modern feel.
Space changer: A sleek pedestal and well-placed vertical mirror can really open up and update an otherwise tight and dated powder room. Install a set of open shelves and use attractive storage boxes to keep supplies at hand.
Go first class: Whether it's a custom glass shower and rich dark cabinets or a corner Jacuzzi tub, today's bathrooms go far beyond function. They are the perfect place to splurge and add a little luxury to your life.
Even a few changes can make a big difference. Enjoy making yours!
Content provided courtesy of Royal LePage
What are your tips you have for updating a bathroom? Let me know in the comments section!