Bring the Outdoors Inside This Summer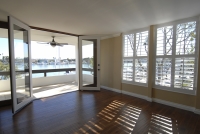 Just as a drab, grey winter garden eventually transitions to a riot of colour and greenery in summer, the inside of your home can reflect seasonal changes for maximum enjoyment. Whether you live in a downtown condo, a country retreat, or somewhere in between, bring the outdoors inside by following these tips:
Lighten Up
Invite summer inside by changing curtains to a sheer or light fabric, or doing away with them altogether. Put away dark cushions, throws and any winter clothing left in your front hallway. Roll up heavy wool rugs and replace with lighter ones or sisal matting, which feel more natural on your feet in warm weather.
Repaint and Refresh
Freshen any room with light paint tones and accessorize with this summer's hot colours: yellow and lime green. All it takes is a couple of toss cushions to give your space zing, or fill a glass vase or bowl with lemons and limes for a cool centerpiece. Pale greens create a feeling of calm and beautifully bridge the space between indoors and out.
Grow Your Garden Indoors
Fill your home with fresh flowers and greenery. If you have a balcony, use oversize pots for plants and tomatoes and put down some outdoor matting or carpeting. No balcony? No problem. Just grow your favourite herbs in an indoor window box, or cultivate an easy to care for asparagus fern for a feathery light look.
Keep Your Cool
Air conditioning is a boon on really hot humid days, but the transition from indoors to outdoors can feel abrupt and unnatural. Opt instead for ceiling fans throughout your home. They are cool, calming, and suggestive of a light summer breeze rather than a blast of arctic air.
Create a Getaway
Paint a room in soft blue, and add a nautical theme with an old fashioned trunk as a coffee table, striped cushions, seafaring artwork and a hurricane lamp filled with seashells. If you prefer the country look, wallpaper one wall of a room with a fabulous floral print to bring a sense of garden indoors. Position a wicker garden chaise and plant in a quiet corner for an instant reading oasis.
No matter where you live, enjoy the sounds of summer with a relaxing nature CD: birdsong, a bubbling brook, waves lapping on shore. A miniature indoor fountain invites you to listen and relax, and isn't that what summer is all about?