Low water pressure at your faucet?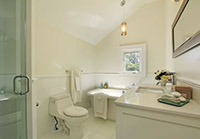 If your faucet has weak pressure for both hot and cold water it may just need the aerator cleaned. If you experience an irregular spray pattern or a stray stream of water going off at an odd direction you might also just need to clean the aerator.
First, close the drain so you don't lose any parts. The aerator is the assembly and screen water passes through as it leaves the spout. The part at the tip of the spout unscrews in a clockwise direction. Make sure both the spout and your hands are dry before trying to remove it with your fingers. You may need to use adjustable pliers if you can't unscrew it with your fingers. Protect the finish of the aerator assembly by wrapping a rubber band around it before applying the pliers.
Once you remove the aerator, disassemble it but make sure you keep the parts in order. You'll find the parts may have rust and/or buildup. Soak all the parts in white vinegar and brush them off with an old toothbrush. If the washer(s) have hardened, take it to your local hardware store to find a replacement and do the same for any broken parts.
Now reassemble the aerator and screw it back onto the faucet. Hand tightening is all you need to do. If water leaks around the aerator assembly, give it a small turn with the pliers.
The whole process may take 3-5 minutes, and you should notice better and more consistent water flow.
Your Monthly Maintenance Minute Brought To You By:

Blueprint Building Inspections
(416) 694-5859
www.blueprintbuildinginspections.com