Mimico and New Toronto Real Estate Monthly Report
What happened in the real estate market in Mimico and New Toronto last month? In the midst of the Covid 19 pandemic affecting us all, there were a total of 34 homes sold in April 2020. This represents a decrease of 67 homes since the month of March 2020. Interestingly sales in the GTA decreased 67% in the same month. See my post about it here.
April 2020 Sold Prices
Take a look at the average sales price for each home type for Mimico and New Toronto.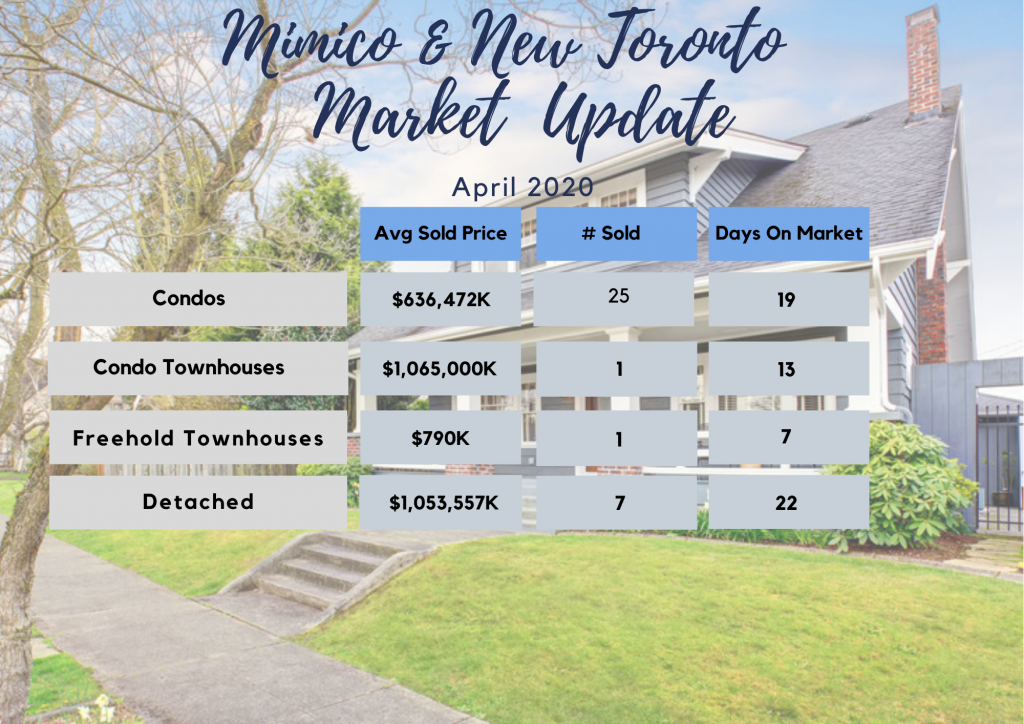 As to be expected there was a decrease in the average sales price in the condo market segment. However the average price of a detached home is holding steady.
Have you been thinking about buying a home in Mimico or New Toronto and not sure what the future holds?
If this is an area you have been considering, know that I am monitoring the market activity on a daily basis. I can let you know about new listings once they become available and you can follow the market along with me. Of course we are experiencing less activity on the market as a whole but, I believe as restrictions slowly start to ease the real estate market will open up. There will be opportunity once again. It is just a matter of time.
The Real Estate industry is deemed an essential service and there are many people who still need housing. As a real estate broker while we remain under a state of emergency, I have a duty to follow the direction of health officials to minimize direct physical interaction. I am here to keep you informed about real estate activity in Mimico and New Toronto.
Showings are severly restricted to those that absolutely need to find suitable housing or have a need to sell at this time. But, there is a lot of preparation work that can go on behind the scenes that I can help you with.
For more information about Mimico or New Toronto please visit my neighbourhoods page here.