Mimico and New Toronto Real Estate Monthly Report
Mimico and New Toronto Real Estate was still very hot last month. Even with all the changes in the world, there were a total of 101 homes sold, an increase of 5 homes from the month before. Overall the month of March did very well.
March 2020 Sold Prices
Take a look at the average sales price for each home type for Mimico and New Toronto.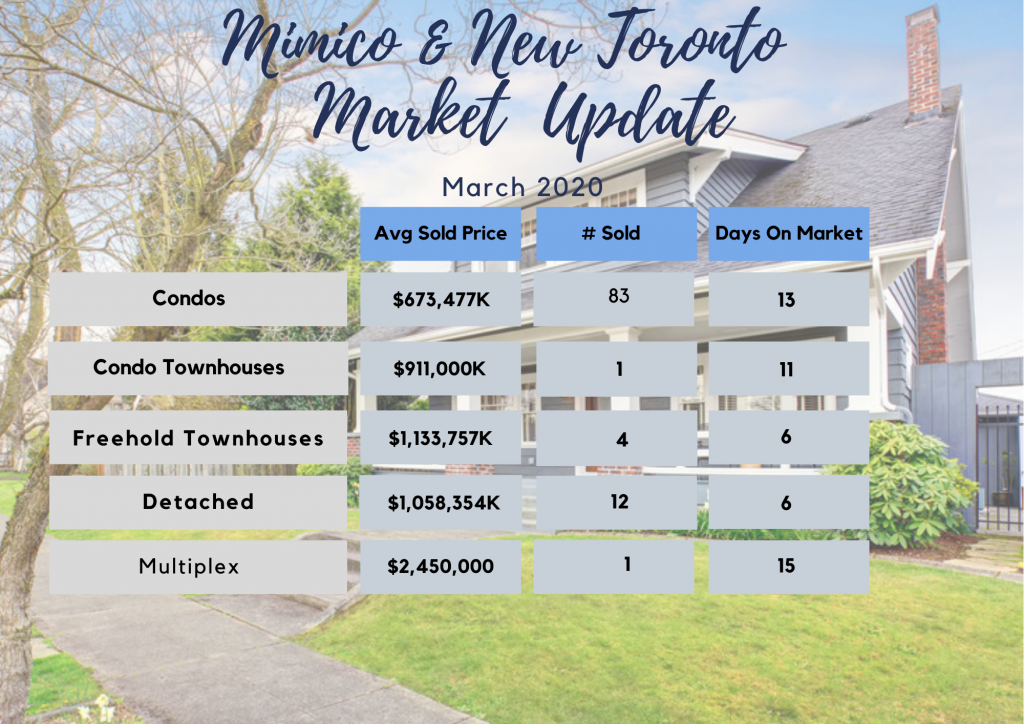 Have you been thinking about buying a home in Mimico or New Toronto and not sure what the future holds?
If this is an area you have been considering, I am monitoring the market on a daily basis. Yes, we are seeing less activity as the days go by due to the Covid 19 State of Emergency.
However, the Real Estate industry is deemed an essential service and there are many people who sold their homes before the World Health Organization declared Corona Virus a Pandemic. There are many people who still need housing.
As a real estate broker while we remain under a state of emergency, I have a duty to follow the direction of health officials to minimize direct physical interaction. I am here to keep you informed about real estate activity in Mimico and New Toronto.
I can do video calls via zoom and can email listings in Mimico and New Toronto if you would like to keep up to date on the market activity in those areas.
For more information about Mimico or New Toronto please visit my neighbourhoods page here.