Simple Tips on Updating Your Rooms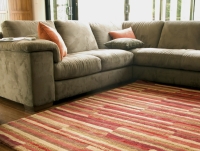 Using Area Rugs to Refresh Your Rooms
Spring has sprung, and home improvement thoughts have begun. If you're looking for a simple, affordable way to spruce up a room, the solution might be right under your feet. The right rug can help provide comfort, protect your floors, and tie your room together.


Here are a few tips to get that "rugged" look:
Size it Up
As a rule, choose a rug that's at least two feet shorter than the smallest wall in the room. For example, if the dimensions of your room are 10′ x 12′, look for a rug no more than 8′ wide as leaving a little space at the walls will make the room appear bigger. Alternatively, use your furniture layout as a guide and ensure the front two legs of chairs and sofas sit on the rug, but not on the back, to optimize circulation flow.
Select Your Volume
An area rug can help quiet a room's décor, or turn up its volume. Use neutral colours such as beige, ivory, taupe, or gray to put more focus on your furniture and any artwork. Or step outside your decorating comfort zone and opt for a bold colour or striking pattern to make it the focal point of the room.
Get Functional
Area rugs can freshen up interior design, but they also have a practical purpose. Rugs are usually more cost-effective than carpeting and will keep your flooring in pristine condition. Rugs provide a warm cushion on your feet in the winter, and can help lessen the strain put on the back and joints. In the living room, a rug also deadens television or stereo noise from the rest of the house.
Family Friendly
You want a well-designed rug, but you also want one designed for your lifestyle. Any rug placed in a high traffic area with kids or pets is going to get its fair share of wear and tear. Consider a wool rug that cleans easily or a heavily patterned rug that can help hide stains and spills. A modular style tile rug will even let you remove and wash individual squares or replace them altogether.
Think Outside the Rectangle
For larger rooms, create and define your space with two or three separate rugs that coordinate and complement each other while visually separating a sitting space from an office or dining space. Contrast hard lines and angular furniture with oval or circular rugs. And if you have a particularly beautiful rug that you don't want worn down, consider hanging it on the wall for all to see.