Second Quarter Market Trends Defy Suggestions of Housing Bubbles
The average price of a home in Canada increased betwee

n 1.2 per cent and 2.7 per cent in the second quarter of 2013, according to the Royal LePage House Price Survey and Market Survey Forecast, released in July.
According to the survey, markets across the country continue to post gains. In the second quarter, standard two-storey homes and detached bungalows both showed a year-over-year average price increase of 2.7 per cent to $419,614 and $386,547, respectively. Average prices for standard condominiums showed a more modest increase during the same period, rising 1.2 per cent to $248,750. Royal LePage forecasts that house prices will see modest gains throughout the remainder of 2013, projecting a 3.0 per cent increase for the full year when compared to 2012.
Dialogue concerning the direction of Canada's housing market has remained front and centre in recent months. Changes to Canada's mortgage lending rules in mid-2012 coupled with concerns about consumer debt levels, housing affordability in cities like Toronto and Vancouver and continued international economic uncertainty have prompted a number of analysts to forecast large downward price adjustments.
"As we have stated consistently since the current market downturn began late in the second quarter of 2012, this is a normal cyclical correction which brings fewer home sales and softer prices. Those hoping their predictions of a bursting bubble and cataclysmic drops in home values will come true are out of luck again," said Phil Soper, president and chief executive of Royal LePage. "Price appreciation in most markets across the country has been well below the long-term average for Canada and will remain so through to the end of the year. We expect to see the number of homes trading hands to begin to rise slightly on a year-over-year basis in the second half of 2013, with price softness continuing until mid-2014, at which point we'll see an emergence from the current cycle."
As of late, the condominium sector has moved to the forefront of discussions concerning the health of Canada's real estate market with fears of oversupply in major centres like Toronto. Yet, condominium prices remained flat or posted year-over-year gains in nearly all Canadian cities in the second quarter, with a couple of exceptions in British Columbia. While condominium prices in Vancouver saw a 3.3 per cent decrease when compared to the same period in 2012, signs of an early recovery are evident across the Lower Mainland of British Columbia.
"We believe condominiums will be a housing class of increasing importance in the Canada of the future," said Soper. "In the short-term we anticipate some market uncertainty and moderate price adjustments, particularly in Toronto which is working through a supply spike, however, the medium and long-term prognosis remains very positive. Demographic and city planning trends, in conjunction with shifting consumer preferences, remain supportive of this housing category."
If you are wondering what your home is worth, please contact me and let me put my expertise to work for you!
Survey of Canadian Average House Prices in the Second Quarter 2013
(provided by Royal LePage)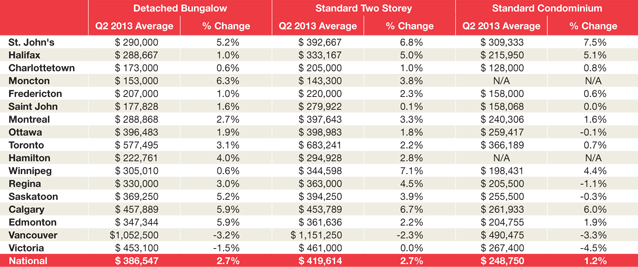 From the Royal LePage Home Connexion Fall Newsletter