Curb Appeal is Critical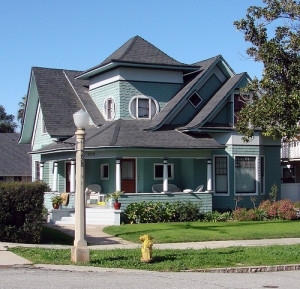 Curb Appeal is Critical
Alluring, or ho-hum: how's your curb appeal? When you are ready to sell your home, be sure to pay close attention to the exterior and strive for that wow factor. You want your home to standout and shine!
Prospective buyers driving past your property will make snap judgments on whether they want to slow down and see your home, or simply drive away. If the exterior is poorly maintained, with uncut grass, peeling paint on the windows, a dowdy door, or sinking eaves troughs, they'll assume the inside is just as uncared for. But if a buyer sees an attractive, appealing façade with a nice-looking lawn to boot, they're going to want to see more – much more.
Beckon buyers up to your front door by painting it in a contrasting colour to the rest of your house. Dark jewel tones of red, blue or green will add a little drama. Consider embellishing the door further with an ornate knocker, polished-metal kickplate or a sumptuous seasonal wreath. Replace plain doorknob hardware with something more attractive.
If your light fixtures and house numbers are looking dull, add a fresh coat of paint to make them look like new. Brass accessories should shine or you may want to refinish them. On a cool, dull day leave lights on: warm lighting creates a cozy ambiance.
Outside your door, planters or urns in resin or cast iron add appeal and interest. In the fall, fill them with colourful chrysanthemums that will last through to the first frost. When signs of winter appear, consider using tall evergreens or dogwood.
Need a new mailbox? An imaginative mailbox adds character to your front door, whether it is a whimsical wood box made to look like a country cottage or a wrought iron creation with the antique look of yesteryear.
If you have pets (especially dogs), clean up any waste and ensure there are no lingering pet odours. Consider taking Fido for a walk if you're going to show your home. Not all prospective buyers are animal lovers, and a barking dog could intimidate them. Also, be sure the lawn and/or landscaping is in pristine condition.
Buy a new Welcome mat! It's simple but effective. When prospective buyers step from the impressive outside of your house to the inside, and see clean, clutter free rooms, they'll be better able to picture themselves living in it. They'll hopefully feel right at home, and you will have succeeded in creating a memorable first impression.
The key to getting top dollar for your home is to create huge demand with a massive supply of buyers. In order to get as many people through the door as possible, your home has to stand out from the competition.
There's no need to completely overhaul your home's exterior as it's often the little details that increase the visual appeal of a property. Here are some ideas that will dramatically improve your home's curb appeal:
Perfect Porch – Wind chimes and a few comfortable chairs set a tranquil tone and solar lights will highlight your home and add a welcoming glow.
Peeling Paint – You want buyers to see that your home is well cared for, so paint or power wash the exterior and clean all of the windows.
Accessorize – Replace outdated fixtures such as your mailbox, door handle and porch light and make sure your house numbers are attractive and visible from the street.
Landscaping – Cut the grass and trim hedges and trees. Well kept flower beds show pride of ownership and a few large pots full of bright flowers will accentuate the entrance way.
De-clutter – An uncluttered exterior is as important as an uncluttered interior so put away tools, toys, bikes and gardening equipment.
Watch Your Back – When buyers drive by your home, they'll usually try and get a glimpse of the backyard so make sure it also gets top notch treatment!
Just as people judge a book by its cover, buyers make assumptions about the interior of your home based on how the outside looks. It's therefore important to make a great first impression beginning at the curb. Your efforts will significantly increase the chances of your home selling quickly and for top dollar!
Content provided courtesy of Royal LePage