The Bar Essentials
Raise the Bar at Your Social Gatherings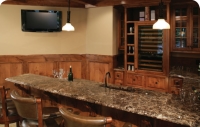 Home entertaining is more popular and casual than ever before, and with the addition of a home bar, you enhance the ambiance of all your parties. Whether it's a portable mini bar in a condo or a large wet bar in a basement, your home bar will delight your guests, not to mention potential home buyers down the road.
Wet or Dry
A home bar should complement your space and serve your entertaining needs. Home bars are part of the social setting and are therefore best located where you entertain or lounge in your home. A dry bar has a work surface and shelving for storing or displaying wines, spirits, glassware and bartending accoutrements. It may also include a small refrigerator to keep beverage mixes and garnishes fresh and cool, and ice cubes handy. Wet bars simply incorporate a separate sink and perhaps a small dishwasher to facilitate easy clean up. This keeps the main kitchen area free for more involved food preparation when entertaining.
Design with Your Home in Mind
Consider a design that matches your preferred entertainment style – sophisticated lounge, sports bar, private member's club, traditional public house. Choose a layout that optimizes the flow of social interaction in your chosen location – L-shaped, semi-circular or linear design. For smaller spaces, mini bars can be concealed within multi-functional furniture, or exposed as part of your furniture ensemble. If your bar will be near the kitchen, keeping the cabinetry the same style offers a clean, seamless look. Basement bars will need appropriate access to plumbing and electrical outlets for bar related appliances like blenders. Bar tops and work surfaces can be made from a variety of materials including tile, wood, stone or granite.
Serve Up Some Style with Accessories
Decorating your bar helps complete the look – consider accessories like abstract artwork, sports memorabilia, neon bar sign, wood and studded leather, old pictures and collectibles. Hanging a large mirror on the back wall enlarges the space and reflects glasses and lighting. A wine rack above or below the bar, and shelves for items such as blenders and glasses are key elements of a bar, but consider adding a popcorn maker for movie nights and an electric kettle with tea bags and specialty coffees for designated drivers. Of course, no bar is complete without an authentic "last call" bell.
Go Small for Small Spaces
For condos or small spaces a portable mini bar or bar cabinet is the answer as they can easily be incorporated into any room's style. When made from lightweight materials, with added hinged sides and casters, the bar can be moved from room to room and even outdoors to patios. This means you can take it with you when you move or, if it is light enough, bring it to your cottage for the weekend.
Article and Images from the Royal LePage Home Connexion Fall Newsletter