Toronto and Etobicoke Real Estate Home Sales for February 2020
Did you hear how well the Toronto and Etobicoke real estate markets performed this past February 2020?
In line with the forecast contained in the Toronto Regional Real Estate Board's recently released Market Year in Review and Outlook Report, TRREB President Michael Collins announced a very strong year-over-year sales and price growth in February 2020.
Greater Toronto Area REALTORS® reported 7,256 residential transactions through TRREB's MLS® System in February 2020, representing a 45.6% increase compared to a 10-year sales low in February 2019. However, February 2020 sales were still below the 2017 record result. Year-over-year sales growth, for the GTA as a whole, was strongest for ground-oriented home types.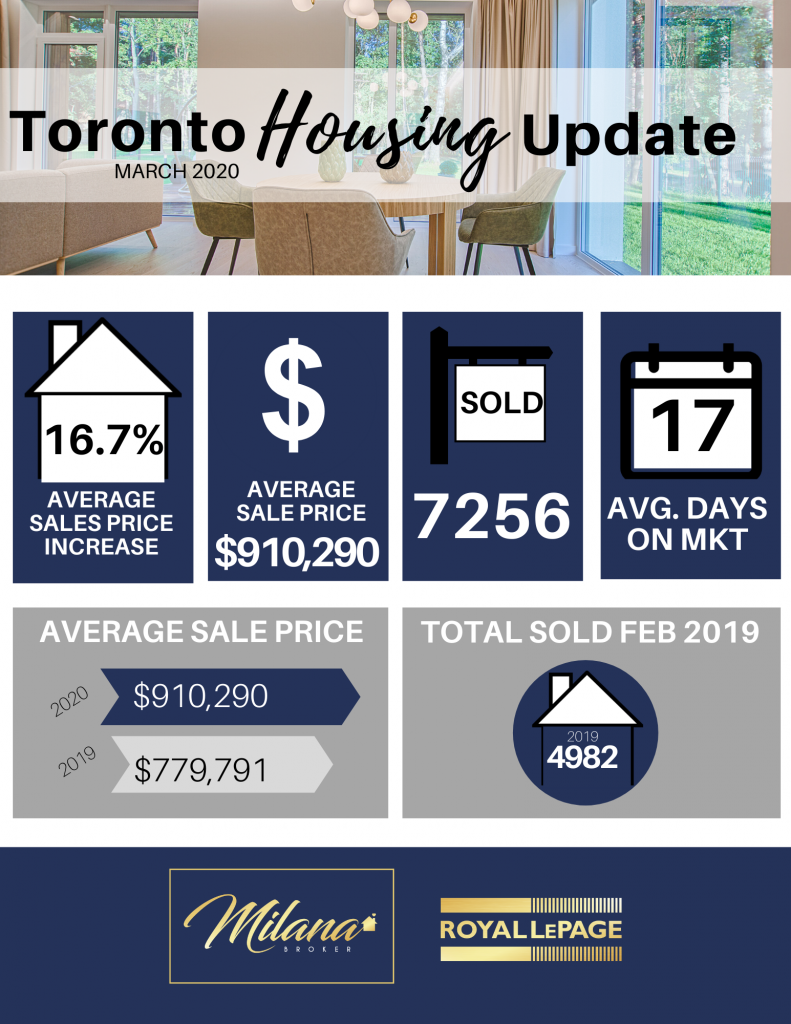 After preliminary seasonal adjustment, February 2020 sales also exhibited positive momentum, up by 14.8% compared to January 2020.
New listings amounted to 10,613 in February 2020, a 7.9% increase compared to February 2019. This moderate annual growth rate was much smaller than that reported for sales, which means market conditions tightened considerably over the past year.
As market conditions tightened over the past year, competition between buyers has clearly increased. This resulted in a further acceleration in year-over-year price growth in February. The MLS® Home Price Index Composite Benchmark was up by 10.2%. The average selling price for all home types combined was up by 16.7% to $910,290. Double-digit average price growth was experienced for most major market segments, including detached houses and condominium apartments.
With the continuation of low inventory more than likely price growth will be seen moreso in the semi-detached, townhouse and condo markets which tend to be a little more affordable. So, if you are interested and have been waiting to get into the real estate market I wouldn't wait much longer. It will be more expensive to buy a home the longer you wait.
Do you have questions about your Etobicoke home and wonder where it may fall within theses prices?
Being active in Etobicoke Real Estate on a daily basis I am able to provide you with up to date local market statistics. This way, you are kept in the know about your home's worth.
Please let me know if you would like a more detailed view on your home. I would be happy to provide you with a no obligation Free Market Evaluation that will let you know what I think your home is worth in today's real estate market.