Mimico and New Toronto Real Estate Monthly Report
Mimico and New Toronto Real Estate is Hot! Last month there were 97 homes that sold in the Mimico and New Toronto neighbourhoods.
Are these areas you are considering for your next home?
With a variety of home styles to choose from in Mimico and New Toronto, it's a great place to consider for your first move or even your next move. The waterfront and the many trails make it a great place for the outdoor enthusiast and nature lover. With a close commute to downtown Toronto, lots of local shops and restaurants to choose from, many great schools, lots of local parks and close to all major highways what else could you ask for?
February 2020 Sold Prices
Take a look at the full report here for Mimico and New Toronto real estate to see what the average sold prices are for each home type.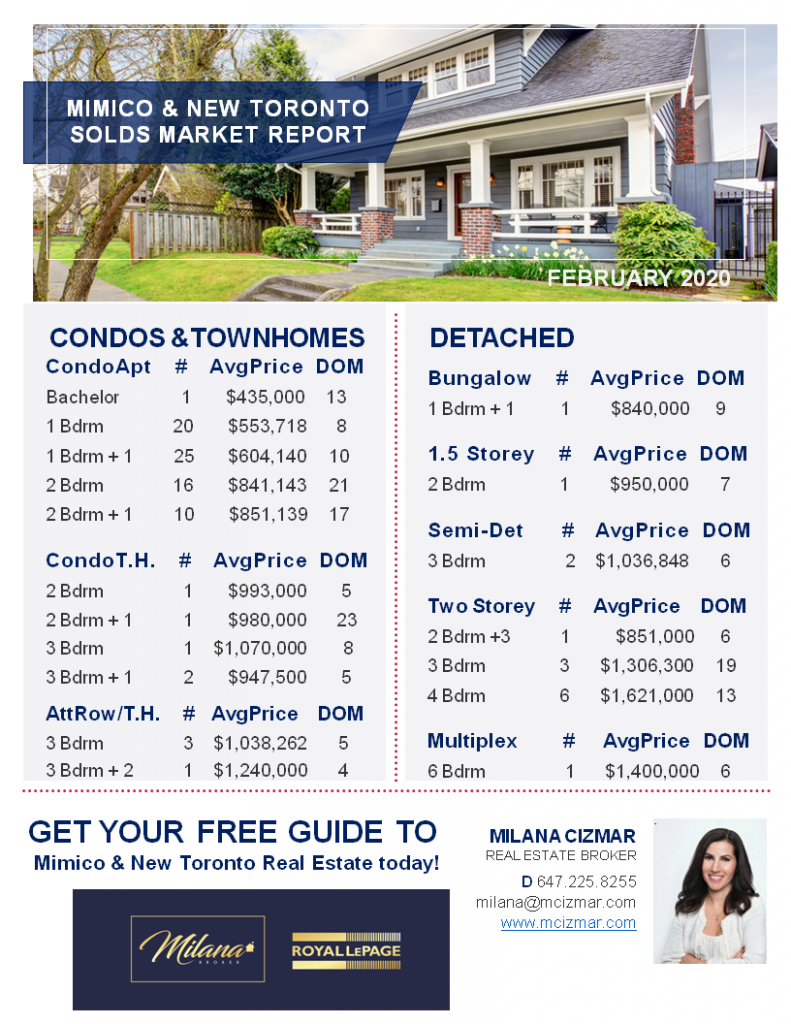 If you are a first time buyer Mimico and New Toronto offer many condo apartments and condo townhouses either stacked or freehold to choose from. If you are a move up or down buyer you could find yourself in a semi-detached home, bungalow, detached or custom built home. If you are a saavy investor you may just be lucky enough to snag one of the great multiplexes for a sound investment to add to your wealth portfolio.
There really is something for everyone at every stage of life in Mimico and New Toronto.
Please get in touch with me if you are interested in receiving free automatic emails of any new listings that hit the market in Mimico or New Toronto and be in the know for all things Mimico and New Toronto Real Estate.
For more information about Mimico or New Toronto please visit my neighbourhoods page here.