What's Hot and What's Not When Selling
If you are thinking of selling your home there are certain remodeling trends that are in for 2012. It is a good idea to keep these trends in mind when improving your homes overall appearance.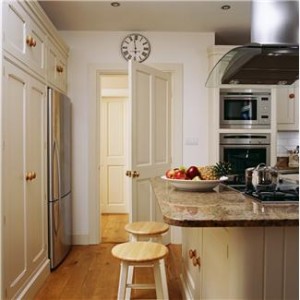 Remember the value of your home may increase when you keep the eye of the buyer in mind. Here are 2012's top trends for kitchens and bathrooms.
The Trend: Rework what you have. Homeowners sticking to a tight budget will
find this trend appealing.
Make it work #1: Instead of purchasing brand new appliances, repair the
current ones to extend their life. Can burners be updated, knobs replaced or
ice makers updated? Find the small fixes that will guarantee you some
longevity while you save up for the a replacement option.
Make it work #2: Cabinetry is an important feature buyers consider when
purchasing a home. If you aren't ready to invest in brand new ones or new
crown molding, try updating them with storage and functionality in mind.
Make it work #3: Small scale projects that have big impact will be a trend this
year. Minor kitchen remodeling projects such as new drawers, countertops,
hardware, and small appliance updates which cost up to $20,000 can recoup
homeowners up to 72.1 percent when the home is resold.
The Trend: Simpler styles and warmer colors, including Walnut, will rule this
year.
Make it work #1: According to a study conducted by The National Association
of REALTORS in conjunction with Remodeling Magazine, cabinet decoration
will continue to streamline. For example, massive corbels, once fashionable
as undercounter supports, will give way to sleeker counter top supports and
cantilevered counter top edges. Stacked moldings will pare back or disappear
entirely. Elaborately glazed finishes will yield to simpler paints and stains.
Make it work #2: Kitchen finishes are trending toward warmer colors this year.
Make it work #3: Laminate counter tops are still in due to their low cost, sleek
look and high demand by homeowners interested in an alternative to more
expensive wood options.
The Trend: New, high-tech installments let homeowners tap into the power of
their kitchen.
Make it work #1: If you're willing to spend the extra money, look for
appliances that feature USB ports and digital screens to display media.
Make it work #2: Smart, induction built-in cooktops are closing the gap on
traditional gas models. Many models range anywhere from $500 to $3,000,
but is worth the investment if your home is older and you want a sleek,
updated look.
Make it work #3: In 2012, your smart-phone could let you control lighting,
temperature, and appliance settings through a wi-fi connection. As more of
our daily life can be controlled with the touch of a finger – this trend could be a
hot request from young buyers.
Source: The National Association of REALTORS and Remodeling Magazine