CREA Updates Resale Housing Forecast
Ottawa, ON, March 15, 2013 – The Canadian Real Estate Association (CREA) has updated its forecast for home sales activity via the Multiple Listing Service® (MLS®) Systems of Canadian real estate Boards and Associations in 2013 and extended the outlook to include 2014.
National sales activity has held fairly stable after gearing down last August in the wake of changes to mortgage lending rules and guidelines. Supply is responding to lower demand, keeping the housing market in balanced territory and resulting in stable average prices. However, national housing market trends continue to mask some increasingly divergent regional trends.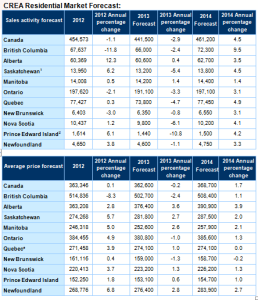 Sales activity in the second half of 2012 geared down by more than previously anticipated in some housing markets, resulting in a downward revision to the national sales forecast for 2013. The continuation of low interest rates will remain supportive for housing activity and prices this year and next year. Sales are still expected to improve later this year in tandem with stronger economic growth.
National sales activity is forecast to reach 441,500 units in 2013. This represents a 2.9 per cent decline from 454,573 sales in 2012, and stands five per cent below the 10-year average (2003 – 2012). It was also a downward revision from the previous forecast for a 2.0 per cent decline.
Alberta and Manitoba are the only provinces where sales are expected to rise in 2013, albeit modestly. The percentage decline in sales in Saskatchewan, Ontario, Quebec, and Nova Scotia is forecast to exceed the national result this year. The percentage decline in sales in British Columbia, New Brunswick, and Newfoundland and Labrador is forecast to be less than the national result.
Strong sales in the first half of last year will cast a long shadow over year-over-year comparisons during the first half of 2013 in many parts of the country. The smaller annual decline being forecast for British Columbia and New Brunswick reflects a weakening trend in these provinces during the first half of 2012 that was not apparent elsewhere.
In 2014, CREA forecasts that national activity will rebound by 4.5 per cent to 461,200 units, reflecting a slow but steady improvement in activity. This would still leave national sales about one per cent below their 10-year-average, with activity not expected to return to levels recorded in the first half of 2012 at any point in the forecast horizon.
British Columbia is forecast to see the strongest sales increase in 2014 (+9.5%), albeit from a low base, with most other provinces forecast to post gains in the range between three and five per cent as the continuation of moderate economic, job, population, and income growth offsets small and gradual interest rates increases next year.
"All real estate markets are local, with prospects that can and do differ by region and community," said Wayne Moen, CREA President. "For that reason, buyers and sellers should talk to their REALTOR® about the housing market outlook where they live or would like to live."
"Mortgage rules are expected to remain as they are, so sales should be less volatile than they have been in recent years," said Gregory Klump, CREA's Chief Economist. "Interest rates are also expected to remain low as the economy grows and adds jobs, which is supportive for the resale housing market."
The national average home price is projected to edge down by 0.2 per cent to $362,600 in 2013. This is slightly lower than was previously forecast. While largely flat at the national level, gains in excess of inflation are still expected in the Prairies and in Newfoundland. British Columbia, Ontario, and New Brunswick are forecast to record declines in their provincial average prices this year.
The national average price is forecast to edge back up by 1.7 per cent to $368,700 in 2014. As in 2013, Alberta, Newfoundland, and to a lesser extent Saskatchewan and Manitoba are forecast to see the biggest gains. The forecast increase in the national average price in 2014 reflects a modest rebound in British Columbia, where its provincial share of national sales will return closer to normal and lift the national average price.