Put a Spring in Your Garden Steps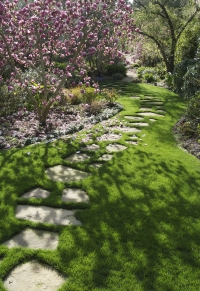 Your home is your habitat, and your garden is your sanctuary. To make the journey between the two more pleasing, lead yourself down a perfect garden path. A garden path or walkway will enhance the livability, functionality, and beauty of any home and garden.
The type of walkway you choose depends on how much traffic it gets, how much upkeep you have time for, and how much you want to spend.
Assess Traffic First – Will your walkway get a lot of foot traffic? If so, you'll want to remove several centimeters of topsoil and add a durable, solid surface such as gravel, brick, concrete pavers, or stone. Make sure your path is wide enough for two people to walk side by side and allow space for overhanging plants.
If traffic isn't much of a concern, select an easy and natural solution like wood chips or shredded bark. Wood chips will cushion your feet, replenish the soil, and can help conceal unwanted weeds. For added foot comfort, opt for a turf path.
To Maintain or Not to Maintain? – How much work do you want to put into your walkway? Gravel and wood chips are easy to put down, allow for natural drainage, and won't disrupt plant roots. They're also very affordable. However, chips and stones need annual replenishing and some weeding may be required.
Mortared paths and dry-laid pavers need the least amount of maintenance, but are more costly options that will likely require professional help. As well, these types of heavy walkways could cause drainage issues and are prone to cracking and splitting.
Shape and Style -Design your walkway with your garden in mind. Leave space between stones to allow greenery to grow and keep the focus on the natural beauty of your plants. Use flagstones and create a rich mosaic pattern using the different shapes and sizes that look natural in any garden.
If you prefer a more modern look, go for square paving stones with a dark border that frames your walkway and complements the colours of your home. Use a curved design to make any narrow areas appear to be wider and more spacious.
Let it Shine – Light up your walkway with LED or solar powered spot lights and lanterns, so you can safely see your way at night. Alternatively, recessed lights that shine along the path offer a nice invitation for an evening stroll.
Hide lights in flower beds, pots and shrubs near your walkway. Concealing the light source will illuminate your plants, offer up some mystery in your garden, and add 'curb appeal' to your backyard.