Toronto and Etobicoke Real Estate Market Update for May 2021
Are you wondering how the real estate market did in Toronto and Etobicoke last month?
The May real estate home sales are in and we continue to see price acceleration and renewed demand for Condos in Toronto and Etobicoke. Here's the lowdown on new listings, sales and the numbers to watch.
May 2021 real estate sales continued the ongoing story of tight demand and strong price gains in the GTA market. Although the number of sales in May declined for the second month in a row since the March 2021 peak, activity was still above pre-pandemic levels as well as the 10 year monthly average for this period.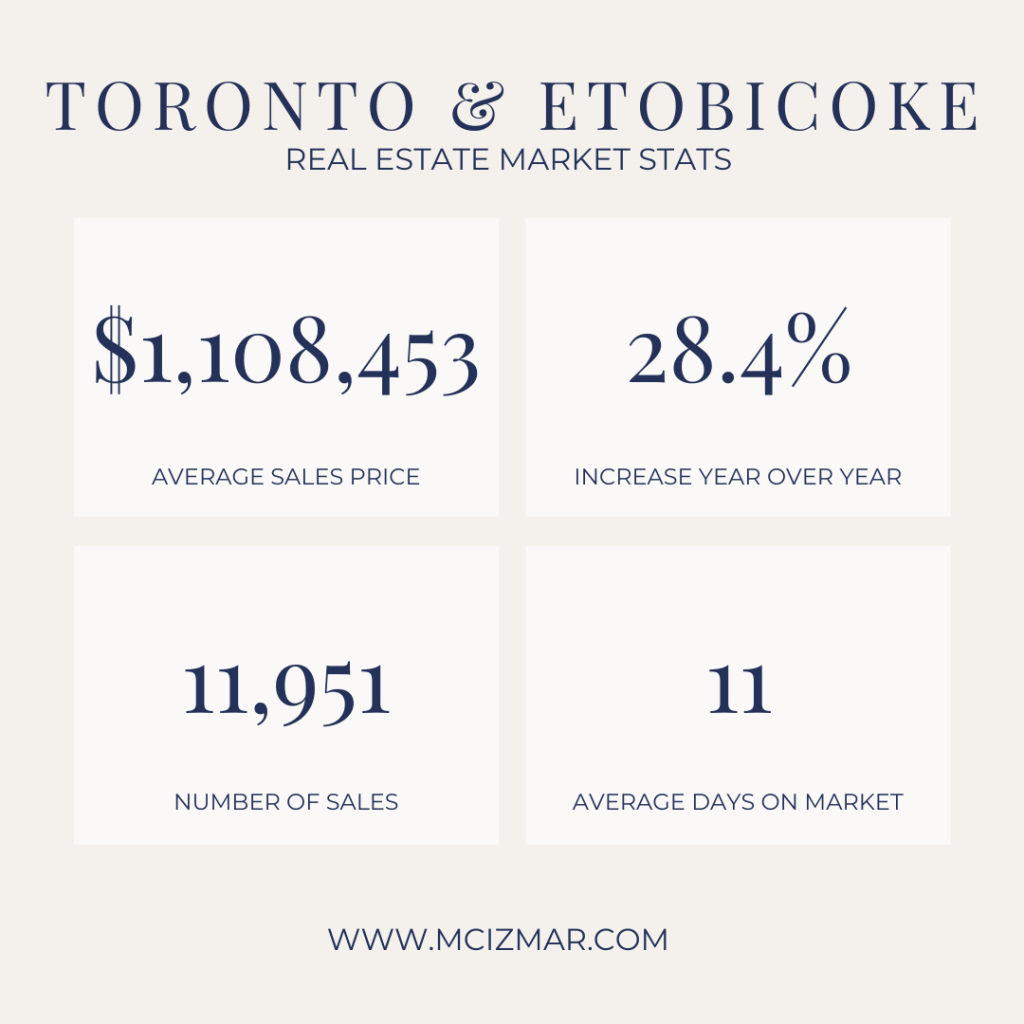 The 17% reduction in new listings compared to April was reflected in the 19% increase in the MLS® Home Price Index Composite Benchmark in May. Along with other economists, RBC's Robert Hogue expects this intense upward price pressure to persist in the near term.
Condo sales showed a noteworthy comeback from the standstill a year ago and some months of price depreciation that followed. The 9.1% average price increase in May could be the beginning of a market rotation into the high rise condo segment. Condo construction wasn't slowed by the pandemic, and Urbanation's Shaun Hildebrand predicts that condo sales in the 416 will be the story of 2021.
The average selling price is now $1,108,453 an increase from last month.
It is still a seller's market and if you need to sell, you will be able to take advantage of the increasing sales prices. It is always important to find out what recent homes have sold for in your neighbourhood. I will be happy to provide you with that information as well as help outline the steps involved in preparing your home for sale and what you need to do to get it on the market to wow the next set of buyers!
Be sure to watch for my update next month as we continue to come out of our third wave of this pandemic and see what effect this may have on home sales in the GTA.
As always if you have any questions about your Toronto or Etobicoke neighbourhood please reach out to me.
Want to get updates delivered straight to your inbox? Sign up here to be notified once a month of the latest Toronto and Etobicoke Real Estate Market Updates as well as insider Buyer and Seller tips.