Toronto and Etobicoke Real Estate Home Sales for March 2020
Like many people, you may have concerns about how the real estate market is being impacted by Covid 19? Here is a break down of Toronto and Etobicoke Real Estate Home Sales for March 2020.
Toronto Regional Real Estate Board President Michael Collins announced that Greater Toronto Area REALTORS® reported 8,012 home sales through TRREB's MLS® System in March 2020 – up by 12.3% compared to 7,132 sales reported in March 2019.
However, despite a strong increase in sales for March 2020 as a whole, there was a clear break in market activity between the pre-COVID-19 and post-COVID-19 periods. For the purposes of this release, the start of the post-COVID-19 period was the week beginning Sunday, March 15.
Read on to find out more about Toronto and Etobicoke Real Estate Home Sales for March 2020.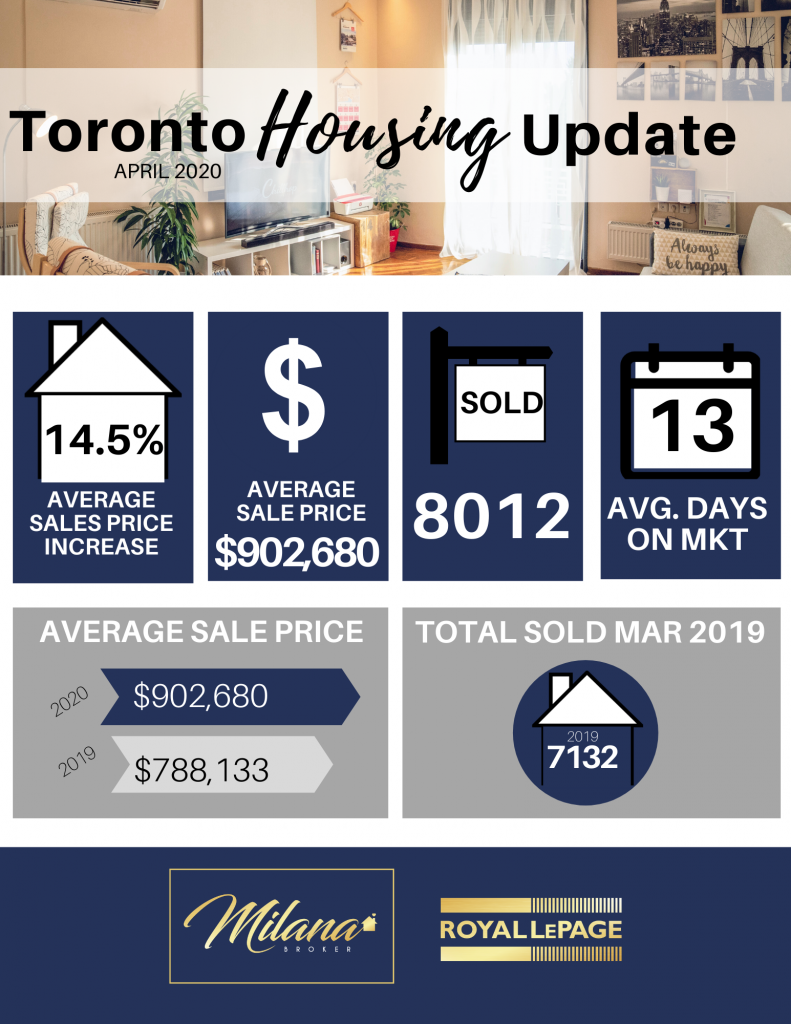 • The overall March sales result was clearly driven by the first two weeks of the month. There were 4,643 sales reported in the pre-COVID-19 period, accounting for 58% of total transactions and representing a 49% increase compared to the first 14 days of March 2019.
• There were 3,369 sales reported during the post-COVID-period – down by 15.9% compared to the same period in March 2019
"The overall sales result for March was strong relative to last year, but the impact of COVID-19 was certainly evident in the number of sales reported in the second half of March. Uncertainty surrounding the outbreak's impact on the broader economy and the onset of the necessary social distancing measures resulted in the decline in sales since March 15. Sales figures for April will give us a better sense as to the trajectory of the market while all levels of government take the required action to contain the spread of COVID-19," said Mr. Collins.
"While COVID-19 has clearly had an impact on the housing market, the late March numbers still suggest that there is activity in the marketplace. TRREB continues to strongly recommend stopping in-person open houses and has provided its Members with guidelines for social distancing. TRREB's professional development staff are working hard to educate its Members via webinars on using technology in innovative ways to conduct business virtually," said TRREB CEO John DiMichele.
For March as a whole, new listings were up by 3% year-over-year to 14,424. However, similar to sales, new listings dropped on a year-over-year basis during the second half of the month (beginning March 15) by 18.4%.
"Despite sales and listings trending lower in the second half of March, demand for ownership housing remained strong enough relative to listings to see the average selling price remain above last year's levels, including during the last few days of the month. As we move through April, we will have a clearer view on how social distancing measures and broader economic conditions will influence sales and ultimately the pace of price growth," said Jason Mercer, TRREB's Chief Market Analyst.
Do you have questions about your Etobicoke home and wonder where it may fall within theses prices due to Covid 19?
I am monitoring the situation on a daily basis and will be able to provide you with timely up to date local market statistics. This way, you are kept in the know about your home's worth as we navigate this global pandemic.
Please let me know if you have any questions.